Built for inline integration and high-volume roll-to-roll production. Fast print speed and high image quality. Super-low ink costs.
Powerful in both roll-to-roll and inline applications
Integrates directly with label finishers, applicators, dispensers, and more
The L901 combines industrial design, exceptional image quality, and high production speeds with a new ability to service and maintain the printhead "on-the-fly." This makes the L901 perfect for long roll-to-roll print jobs or inline integration with label finishers, applicators, dispensers, and more.
Produce vibrant, full-color prints in high resolution. Large print volumes are now more economical, with five high-capacity 250ml CMYKK ink cartridges delivering an ultra-low cost per label.
• Inline & high-volume printing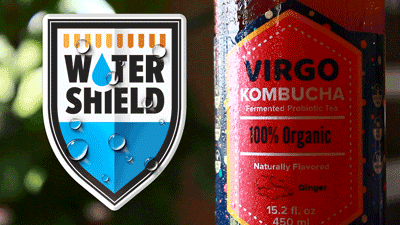 • Fast print speeds (≤ 12 IPS)
• Super low ink costs
• Water-resistant inks available
Roll-to-Roll Label Printing
The XL Unwinder/Rewinder system pairs perfectly with the L901 to allow for continuous, roll-to-roll label production. Easily handle rolls up to 12″ in diameter outside diameter for high-volume jobs and reduced media costs.
Designed for Inline Applications
The L901's Memjet VersaPass printhead technology allows for on-the-fly maintenance, which makes for perfect inline integration with dispensers, applicators, label finishers and high-volume digital label press configurations.
Watershield™ Technology for Water-Resistant Labels
Get the L901 Plus for increased water and moisture resistance (1).
Watershield-printed labels are significantly more resistant to the effects of prolonged moisture exposure than conventional dye-based inkjet labels. This makes the L901 Plus perfect for applications such as chilled beverages, foods, chemical or pharmaceutical products.
This new technology also produces deeper blacks and uses no hazardous chemicals (2).
Ultra-low Ink Cost
Five high-capacity ink cartridges (CMYKK) offer extremely low ink cost per print, a top factor in assessing cost of ownership while choosing a printer.
High Speed & High Resolution
A stationary printhead offers blazing fast print speeds of up to 60 inches (18m) per minute. Keep up with most high-volume jobs, whether in a continuous roll-to-roll setup or inline with a digital press.
(1) Water resistance can be media-dependent. Always test your printed label to be sure it meets your requirements.
(2) Watershield inks are free from phthalate esters, benzophenone, bisphenol-A (BPA), HAPs – Hazardous Air Pollutants, SVHCs, heavy metals, and aromatic amines.
DOWNLOAD DATASHEET